Sunday Morning Children Bible Study Classes
These classes are currently not meeting due to COVID-19. Please check back for updated information. Thank You.

Currently, we have 3 children classes. In each of these classes, we have dedicated teachers that love your children, and strive to help them learn about the Gospel of Jesus Christ. In doing this these teachers also stress respect for each other, respect for authority, and respect for God, His House, and His Word. They strive to make the learning process fun and engaging in order that the students will want to be a part of the class. The classes are listed below. Check them out. Encourage your children to try them out. I am convinced they will enjoy it.
The Nursery
We have a nursery for the Bible Study hour and the Worship hour. We know you want a place that is safe, clean and loving for your child. You will find that at CBC. The nursery workers are very loving ladies that give the children the attention they need and love what they do. You can rest assured that your child will enjoy being in the nursery.
Young Children
This class is currently for children from Prk-3rd grade. Their teacher uses a very loving yet engaging approach to teaching the Bible lessons that helps the children understand how the lesson applies to them. They learn the basic stories of the life and world-changing events and personalities in the Bible in a way that shows that they are real and true, even today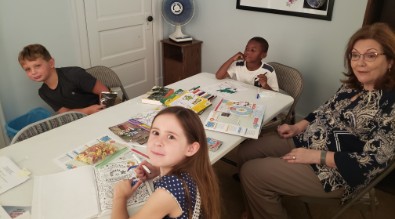 Older Children
This class is for children grades 4-6. Like the Younger Children's class, this class is taken into the Bible lessons in a way that encourages their questions, helps engage them in the lesson, and seeks to lead them to see that the Bible is true and applicable as their guide for daily living. The goal is to lead the class to know Jesus Christ in a personal and saving way. (As you can see, they are a little shy getting their picture taken).